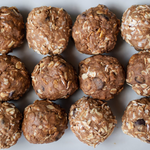 Ingredients
:
1/4 cup chia seeds
1 1/2 cup old fashion oats
1/3 cup
Plant Works Vanilla Protein Powder
 or
Plant Works Chocolate Protein Powder
1/2 cup peanut butter (already stirred)
1/3 cup honey
1 tsp. vanilla
2 tsp. water
Instructions:
1. Place all the ingredients in a bowl
2. Mix with hands or spatula.
3. Once mixed, if the mixture feels too dry add a little bit water at a time to make the mixture stick together. If the mixture is too sticky, add in oats 1 tbs. at a time
4. Place bites on a cookie sheet lined with parchment paper, chill for at least 10 minutes
5. Once chilled place into an airtight container
6. Eat within 4-5 days (if they don't all get eaten before then!