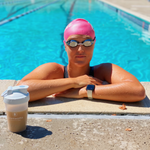 After 16 years of being a competitive swimmer, I have finally figured out how to best fuel my body after a workout. 
As a rising Senior on the UCLA Swim team and throughout my college career, I have struggled to find a protein powder that didn't upset my stomach and encompassed enough protein for recovery and fuel for my next practice.
Now, I choose Plant Works Nutrition, because it tastes amazing and I get real, nutritious protein for optimal recovery. It's a win-win. It gets even better when you have a nutritious meal after your workout that is full of 20 grams of protein, 5 grams of BCAA's and is full of adaptogen super herbs. I feel so satisfied not only from the taste, but also from knowing that I properly refueled my body.
I absolutely love working out and I am so grateful to have 30 strong women do it with me at UCLA. There is no better feeling than pushing my body to the limits! In order to do so, I need protein after my 2 hour workouts and Plant Works checks off all the boxes. 
During this crazy time, I feel so fortunate that my club team at home has been able to hold practices. After every practice, I make myself a delicious protein shake with frozen bananas, strawberries, spinach or kale, almond butter and 2 generous scoops of protein powder (I've tried a few recipes now and this combo's my favorite)! I have no doubts that I will take Plant Works with me wherever I go, even after my athletic career. 
- Izzy Barattolo, Plant Works Intern